The Smile Time dental surgery is located in Novi Sad.
Our high standards of work, the top-quality materials that we use, our expert and friendly staff and the painless treatment we offer set our surgery apart. Using the latest devices and materials, our expert staff effectively resolve even the most complicated dental situations with a high rate of success. Quality service and healthy teeth for our patients are our priorities. These services include everything from tooth repair using white fillings, to implants, crowns, oral surgery, and cosmetic services such as teeth whitening, teeth polishing, tartar removal and many other services.
With the use of the best anaesthetics all procedures, even the most complex, are painless. Our dental services are also available to patients with foreign health insurance. As a courtesy to our customers we also offer the option to pay in installments via debit at source or post-dated bank cheques.
Individual approach
The Smile Time surgery team guarantees professional, expert work, as well as an individual approach to each patient, allowing us to always achieve the best possible results in the shortest time. Satisfied patients are our greatest motive and our guarantee that the work we do is of the highest standard.
Use of the highest quality materials
Whatever the procedure, at Smile Time we use only the highest quality materials, ensuring that the results we achieve are up to the highest international standards.
Technology
We are constantly investing in technology in our surgery, so that patients choosing the Smile Time surgery can receive the best in treatment. Technological advances and our use of the best brands in the dental field allow us to address even the most complex issues simply and quickly.
SPECIAL SERVICES
Payment in installments
Everything we do is done with our patients' best interests at heart. We want to minimise the financial burden for all those planning to use the dental services of Smile Time for themselves and their family. We now offer our patients the option of payment via debit at source, credit card and post-dated bank cheque.
SPECIAL SERVICES
Dental tourism
In our surgery we offer all kinds of dental service as part of our dental tourism package. Whether you need fillings replaced, teeth repaired, roots treated, new teeth made, oral surgery or anything else, at Smile Time you can expect 100% dedication to your case, coupled with the highest level of professionalism, a pleasant atmosphere and, at the end of it all, a brilliant new smile.
SPECIAL SERVICES
Weekend on-call service
If you get toothache during the weekend there is no need to suffer for days and risk unnecessary complications – Smile Time has the solution for your problem right now. Whether you are in pain, suffering from swelling, have had a filling fall out or have a tooth that needs taking out – or perhaps you need some more complicated procedure – the doors of Smile Time are open to everyone in need of help.
Teeth whitening
Teeth whitening is one of the most popular dental procedures, offering significant cosmetic improvements.
Our patient contacted us wanting us to refresh her smile with a teeth whitening procedure. The treatment was done using an at-home process, overseen by a dentist via regular visits. The aesthetic effect achieved was just what the patient wanted.
Composite facings
Our patient came to us unhappy with the look and function of her front teeth. She wanted us to give her smile a makeover.
We fixed her front teeth using composite facings. The patient got both a new look and corrected speech and chewing function of her front teeth, all in one visit.
The way your teeth look is important – modern methods and materials make it possible to achieve the desired appearance of the teeth and the overall image the patient is looking for, whilst ensuring durability too.
Our warranty​
Happy patients are our primary mission and inspiration for our work. Each new smile we see on a patient motivates us all over again to dedicate ourselves 100% to every individual case, and to provide every patient with the best in dental services in the most pleasant surroundings possible.
Modern techniques, expertise and technologies, and the high-quality materials we work with, ensure that we always achieve the desired results.
We stand behind each and every treatment we carry out, and provide a warranty as follows:
– fillings – one year,
– crowns – seven years,
– dentures – three years,
– implants – lifetime guarantee.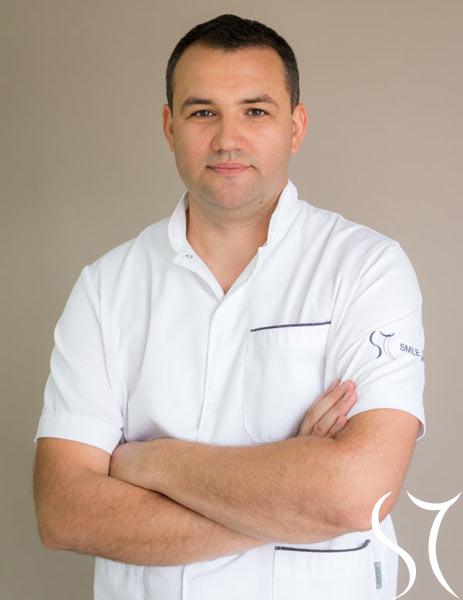 Dr Velibor Trgovcic
Specialist oral surgeon
Dr Jelena Filipovic
Doctor of Dental Medicine
Dr Biljana Brkljac
Doctor of Dental Medicine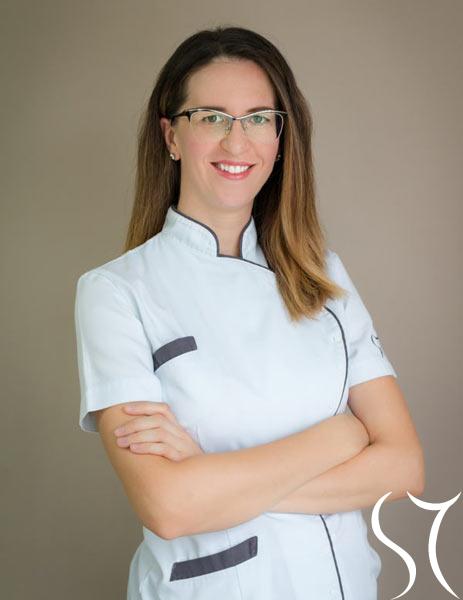 Dr Jelica Masalovic
Doctor of Dental Medicine
Ana Mitrovic
I was unhappy with the change in the colour of my teeth and that started to negatively affect my self-confidence. I decided to try teeth whitening at Smile Time and was over the moon with the results. They gave me back my self-confidence and put the smile back on my face!

Mirko Jankovic
I had a full denture done at Smile Time. The teeth look just like real ones and are just like I wanted – the colour, shape, size – I can't find a single fault. Most important of all, the way this denture feels in my mouth is totally natural, and I don't have any discomfort at all!

Jovana Ninkovic
I went to Smile Time for pain which I felt right along my whole jaw. They concluded that I needed a wisdom tooth removed and I thought that I was in for a painful and unpleasant experience. How wrong I was! Thanks to the professionals at the surgery and their friendly approach, the whole process was an unexpectedly pleasant one!