The Smile Time dental surgery is located in Novi Sad.
Our high standards of work, the top-quality materials that we use, our expert and friendly staff and the painless treatment we offer set our surgery apart. Using the latest devices and materials, our expert staff effectively resolve even the most complicated dental situations with a high rate of success. Quality service and healthy teeth for our patients are our priorities. These services include everything from tooth repair using white fillings, to implants, crowns, oral surgery, and cosmetic services such as teeth whitening, teeth polishing, tartar removal and many other services.
With the use of the best anaesthetics all procedures, even the most complex, are painless. Our dental services are also available to patients with foreign health insurance. As a courtesy to our customers we also offer the option to pay in installments via debit at source or post-dated bank cheques.
Individual approach
The Smile Time dental office team guarantees professional and expert work as well as an individual approach to each client. Getting to know the client allows us to perform better. Individual work is actually the personalized work of our team, which gives each patient what he/she wants.
Use of the highest quality materials
During every intervention in the Smile Time dental office, we use the highest quality materials so that the result of the work is at the level of world standards. The quality of the material guarantees a long-term warranty, quality and appearance. This approach to work gives both the client and our team the energy to work.
Technology
We continuously invest in innovative technology and thus ensure the highest quality treatment. Technological progress and the use of the best brands in the field of dentistry, gives us the opportunity to solve even the most complicated cases in a simple and fast way. The combination of experience, technology and quality materials gives our clients additional security.
"Dental implants are surgically placed titanium "screws" that are placed in the jaw to replace missing teeth. They serve as the basis for placing replacement teeth, bridges or dentures. Dental implants have become a popular and effective way to replace lost teeth and improve the functionality and aesthetics of a smile. Dental implants have many advantages, including stability and durability. They are stronger and more stable than other alternatives, such as traditional braces. Implants also prevent bone loss in the jaw that can occur after tooth loss.
"Hollywood smile", or Hollywood smile, has become extremely popular in the world of cosmetic dentistry and beyond. This concept refers to the appearance of a smile that is bright, radiant, symmetrical and attractive, inspired by the characteristic smiles of Hollywood stars. It became a symbol of a beautiful and attractive smile, and its popularity was brought about by media attention, aesthetics and the beauty of the smiles of public figures.
Teeth whitening is a dental procedure used to lighten the color of teeth and achieve a brighter, brighter smile. This procedure is popular in cosmetic dentistry and can be performed in several different ways. Professional whitening: This procedure is performed in a dental office. Home whitening: The dentist can also recommend whitening that is done at home, with the use of customized preparations.
Teeth whitening
Teeth whitening is one of the most popular dental procedures, offering significant cosmetic improvements.
Our patient contacted us wanting us to refresh her smile with a teeth whitening procedure. The treatment was done using an at-home process, overseen by a dentist via regular visits. The aesthetic effect achieved was just what the patient wanted.
Composite facings
Our patient came to us unhappy with the look and function of her front teeth. She wanted us to give her smile a makeover.
We fixed her front teeth using composite facings. The patient got both a new look and corrected speech and chewing function of her front teeth, all in one visit.
The way your teeth look is important – modern methods and materials make it possible to achieve the desired appearance of the teeth and the overall image the patient is looking for, whilst ensuring durability too.
Our warranty​
Happy patients are our primary mission and inspiration for our work. Each new smile we see on a patient motivates us all over again to dedicate ourselves 100% to every individual case, and to provide every patient with the best in dental services in the most pleasant surroundings possible.
Modern techniques, expertise and technologies, and the high-quality materials we work with, ensure that we always achieve the desired results.
We stand behind each and every treatment we carry out, and provide a warranty as follows:
1. Fillings – one year ✔
2. Crowns – seven years ✔
3. Dentures – three years ✔
4. Implants – lifetime guarantee ✔
Dr Velibor Trgovcic
Specialist oral surgeon
Dr Marija Šarenac Minić
Specialist in dental prosthetics
Dr Jelena Filipović
Doctor of Dental Medicine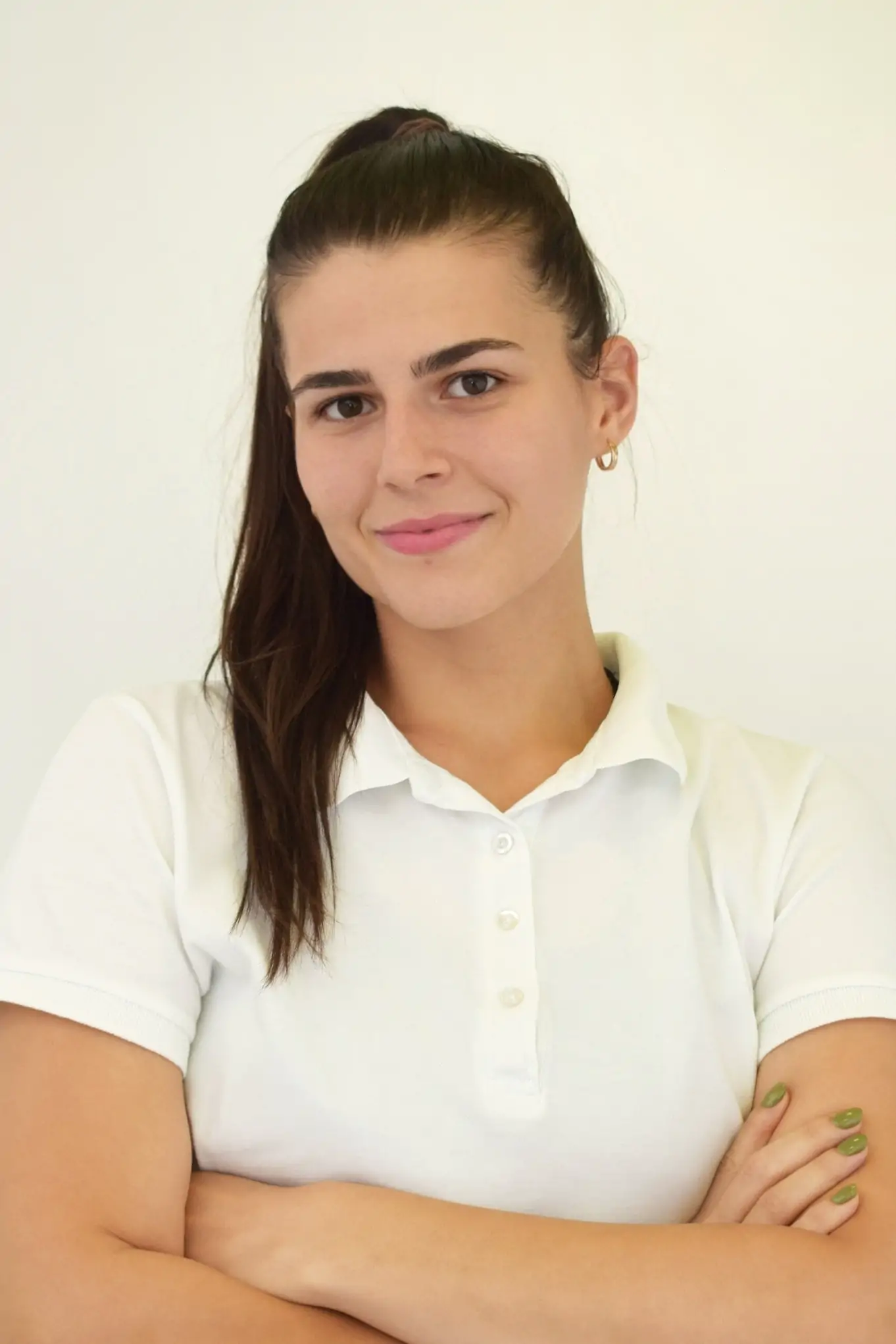 Dr Milena Mačkić
Doctor of Dental Medicine
Ana Mitrovic
I was unhappy with the change in the colour of my teeth and that started to negatively affect my self-confidence. I decided to try teeth whitening at Smile Time and was over the moon with the results. They gave me back my self-confidence and put the smile back on my face!

Mirko Jankovic
I had a full denture done at Smile Time. The teeth look just like real ones and are just like I wanted – the colour, shape, size – I can't find a single fault. Most important of all, the way this denture feels in my mouth is totally natural, and I don't have any discomfort at all!

Jovana Ninkovic
I went to Smile Time for pain which I felt right along my whole jaw. They concluded that I needed a wisdom tooth removed and I thought that I was in for a painful and unpleasant experience. How wrong I was! Thanks to the professionals at the surgery and their friendly approach, the whole process was an unexpectedly pleasant one!

Nemo
Had an emergency, they luckily had a free slot. My problem was fixed with profession and care. I am very satisfied, would recommend and continue going.

Silvia Varga
My particular dentist, Tijana is an amazing young professional. I was very impressed with both her skills and approach to patients.

Mike M. Lacarak
The doctor was able to accommodate an appointment on short notice. Great professional work.

Miloš Matović
Really happy with the service. They booked me in at short notice, advised about all the work that needs to be done regarding my teeth and then carried out the procedure (total of 6 fillings and teeth cleaning) within the 9 days while I was in Serbia. Dr Jelena Filipovic went above and beyond to help me and even did some overtime so I could be all sorted before leaving the country. Quality of work seems really good and I've had no issues since. Happy with the price also, about 4 times cheaper then in the UK. Will be definitely visiting again next year.