What is dental tourism?
Put simply, dental tourism is the perfect way to see the world and make the most of your trip at the same time. Dental tourism is part of the growing trend in medical tourism, where people travel abroad to undergo medical treatment.
The patient gets to not only have the dental work done that they need but also to experience attractive tourist destinations, and to combine the costs into a single financial investment.
Dental tourism offers patients a fast, effective and affordable way to achieve the perfect smile.
Tourists from more developed countries often opt for dental trips since this allows them to access dental services in countries such as Serbia and save up to 60% of the sum they would spend in their home country for the same procedure.
However, the savings made in opting for dental tourism are in no way at the expense of the quality of the procedure itself. Travellers opting for dental tourism are treated by highly-qualified dentists using top quality materials and the latest dental techniques. With dental tourism, the traveller takes home not only perfect dental work but also memories of their trip to last a lifetime.
Dental tourism at Smile Time
In our surgery we offer all kinds of dental service as part of our dental tourism package. Whether you need fillings replaced, teeth repaired, roots treated, new teeth made, oral surgery or something else, at Smile Time you can expect 100% dedication to your case, coupled with the highest level of professionalism, a pleasant atmosphere and, at the end of it all, a brilliant new smile.
For complicated procedures such as oral surgery, Smile Time can get everything done for patients under one roof. X-rays are carried out in the surgery itself and the image is immediately ready to be analysed by our team of professionals, who will then draw up an appropriate treatment plan on a case-by-case basis.
Local anaesthetic is always used, ensuring patients can undergo any dental procedure painlessly.
What does our surgery offer dental tourists?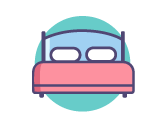 free accommodation in apartments in the centre of the city
staff you can call on 24 hours a day
transport to or from the airport, train station or bus station
a local number so that we can get in touch at any time
a guide if the patient wants this service
Our goal is to make every patient's time in Novi Sad a pleasant, fun and useful one. We want you to go back home from our city, our country and our surgery taking with you only the fondest memories, 100% satisfied both with your experience and with the results achieved.
Book your appointment today