Dental office Smile Time was founded in 2012.
Smile Time practice is guided by the idea of providing its patients with top quality and professional service at affordable prices. Quality, expertise and reliability are values we do not compromise on. The trust shown and the recommendations of our clients are a guideline and an indicator that we are on the right path. The smiles of our clients are our best advertisement.
Perfect smile without fear
We are mindful of the fact that one of the main reasons people avoid visiting the dentist is a fear of painful repairs and procedures. There is no need for fear at Smile Time! Thanks to modern techniques and the use of the best anaesthetics available, even the most complex procedures are completely painless. Do dentists strike fear into your heart? Come to us and we'll put a smile on your face instead!
Talk to us
If you have any concern or uncertainty about a treatment that has been recommended to you, we will be happy to talk to you and answer all your questions. We want our patients to be fully informed about each step that we need to take together in order to achieve our goal – healthy and beautiful teeth.
High quality equipment
You and your smile are our number one priority! That is why we only use the highest-quality devices and materials from the world's top manufacturers in order to achieve exceptional results, not just in cosmetic terms but also in terms of durability.
Thanks to our experience and expertise, we can address practically all your dental problems successfully and effectively. We offer a wide range of services to our patients, depending on the patient's real needs and on the diagnosis. You can rest assured that we will only recommend to you what is best for the health of your teeth – whether that be diagnosis and prevention, conservative dental work and prosthesis, or the most complex of dental procedures.
We work together with top experts and university professors to ensure that at our surgery you can get even the most complex issues resolved effectively and in time. That is why Smile Time surgery is the right choice for patients in need of demanding dental procedures.
Dr Velibor Trgovcic
Specialist oral surgeon
Born in Virovitica, Croatia in 1983.
Graduated in dental medicine from the University of Novi Sad Faculty of Medicine in 2010. Completed specialist studies in Oral Surgery with Implantology at the same faculty in 2018.
Continues active training, attending courses and congresses in the fields of surgery and implantology at home and abroad.
Dr Velibor Trgovcic speaks English.
Dr Jelena Filipovic
Doctor of Dental Medicine
Born in 1989 in Sremska Mitrovica.
Graduated in dental medicine in 2013 from the University of Novi Sad Faculty of Medicine.
Keeps up with the latest developments in modern dental practice, pursues continuing education in the areas of cosmetic and conservative dentistry.
Dr Jelena Filipovic speaks English.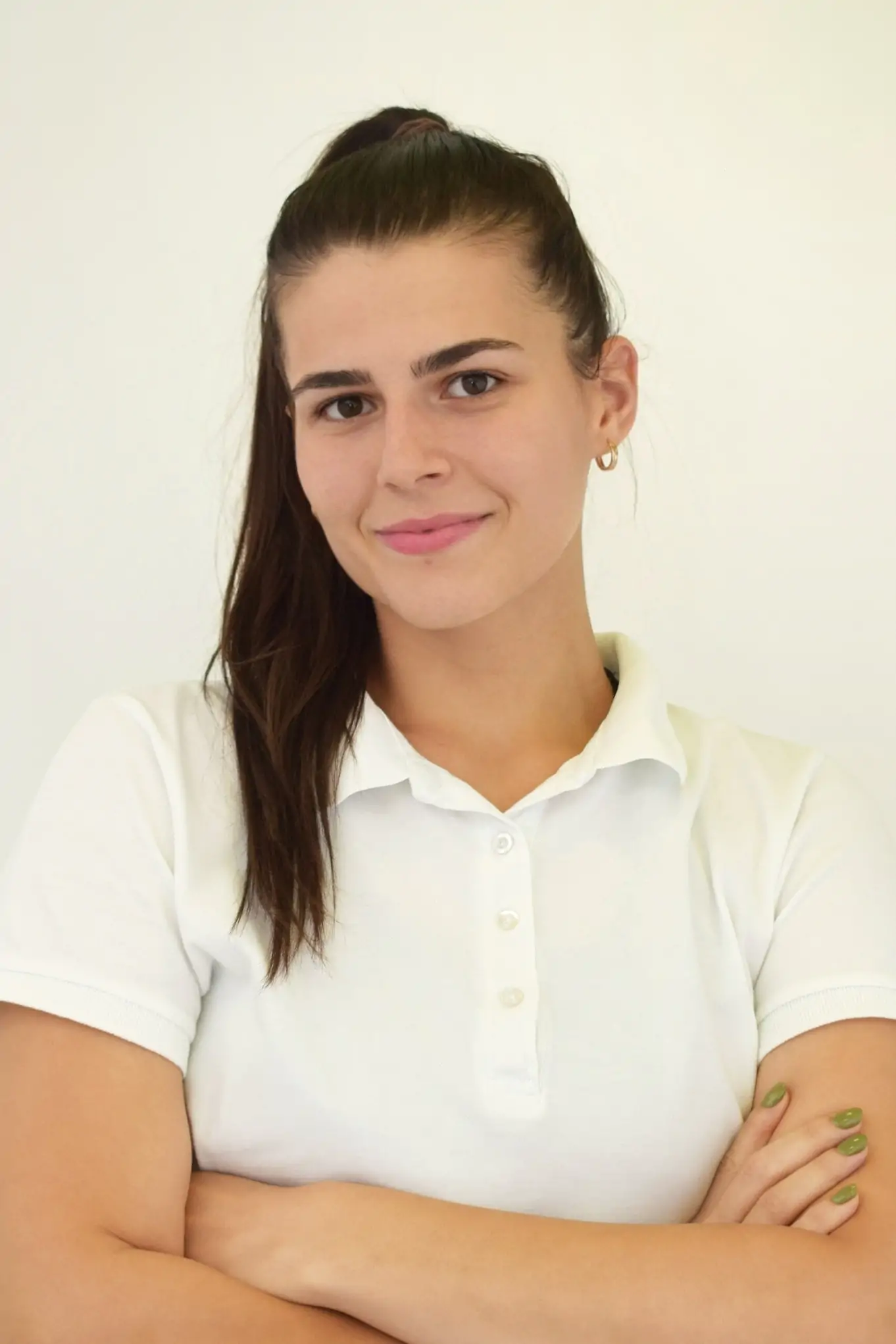 Dr Milena Mačkić
Doctor of Dental Medicine
Born in Zrenjanin in 1995.
Graduated in 2020 from the Faculty of Medicine of the University of Novi Sad.
Her professional approach, kindness and compassion for patients make her an outstanding member of our team. You can always count on Dr. Milena for superior dental care and a smile that will greet you every time you visit her.
Dr Milena Mačkić speaks English.
Dr Tijana Ivković
Doctor of Dental Medicine
Born in Bijeljina, BiH 1995.
2020. Completed studies of dental medicine, from the University of Novi Sad, Faculty of medicine.
Dr Tijana strives to continually improve in all fields of dental medicine, with great focus and intrest in conservative and aesthetic dentistry.
Dr Tijana Ivković speaks English.
Milana Banjanac
Dental nurse
Danijela Gojkov
Dental nurse
We are known beyond the borders of our country, and patients with foreign health insurance can make use of our services easily and simply.
The Smile Time dental surgery is in the Grbavica neighbourhood of Novi Sad, on the corner of Brace Ribnikar and Mise Dimitrijevica streets. The entrance to the surgery is from Mise Dimitrijevica street number 1, on the first floor. The surgery is open to patients – current and future – from Monday to Friday, 9 am to 9 pm, and on Saturdays and Sundays by agreement.
The right time for that beautiful, healthy smile is now! We know how – you know where. See you at the Smile Time surgery – the perfect place for your perfect smile.
Book your appointment today